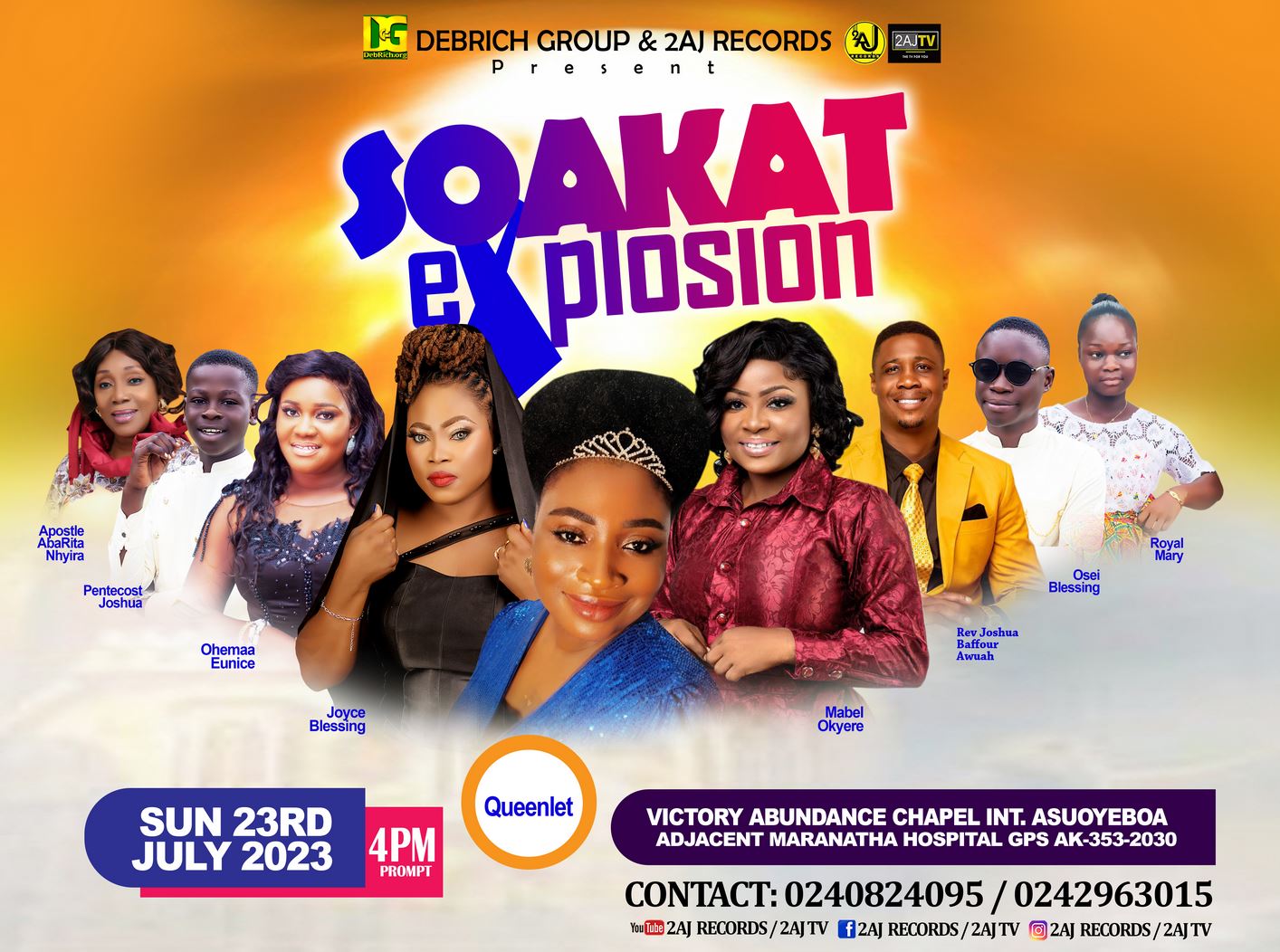 The Multiple Award-Winning Soakat Gospel Minister Queen Leticia, popularly known as QueenLet joined Ghanaian Gosple stars; Unbreakable Joyce Blessing, Mabel Okyere of "Aha ye Kwan ho" fame, Ohemaa Eunice of "Si Nkete" fame, Osei Blessing of "Wona Wobre" fame, Pentecost Joshua, Apostle AbaRita Nhyira of "Ayei Ayei Ayei (Odomberima)" fame, Rev Joshua Baffour Awuah and Royal Mary in SOAKAT EXPLOSION 2023.
Euro-African's favourite record label, "Debrich Group" and leading Ghanaian Gospel Record lable "2AJ Records" present another long-anticipated Soaking & Atmospheric (SOAKAT) gospel eXplosion.
SOAKAT eXplosion speaks rhema music, melodious music and harmonious songs into your life, to define "Ko Ma Si" God [inimitable God, incomparable God, None like you}.
Program: SOAKAT eXplosion
Date: SUNDAY, JULY 23, 2023.
Time: 4PM Ghana Time.
Venue: Victory Abundance Chapel International, Asuoyeboa – KUMASI, Ghana.

Get ready to meet the Soakat Davidic worship and praises leaders of our time.
SOAKAT eXplosion is to Acknowledge the authority and the power of Elohim through the Holy Spirit.
Hence, this is the hour of "SOAKAT MUSIC" in times like Russian and Ukrain War, the pandemic, an epidemic of an infectious disease that has spread across multiple continents or worldwide.
"Soakat" genre of music raised eyebrows everywhere on social media since the year 2020 and Ameyaw Debrah and Ghana GTV being the first media house to interview QueenLet; just after Google verification at https://g.co/kgs/SbQQDk.
"SOAKAT" stands for Soaking & Atmospheric.
"SOAK" stand for SOAKING
"AT" stand for ATMOSPHERIC
SOAKAT is a style or category of art, music, or literature which enforce "Soaking & Atmospheric" surroundings of the HOLY SPIRIT in which a person must be soaked in the Holy Spirit within a given Atmosphere.
The spiritual and soulish environment that encompasses all living worshipers of ELOHIM.
John 4:23 …"But an hour is coming, and now is, when the true worshipers will worship the Father in spirit and truth; for such people the Father seeks to be His worshippers".
When your spiritual life with ELOHIM is dry, soaking and atmospheric can give new life or vigor to your spirit. Re-energize your spiritual life through soaking and atmospheric music (Sokaat).
*In Environment of SOAKAT:*
1. Spiritual re-energize is possible.
2. The move of the Holy Spirit is possible.
3. The gifts of the Holy Spirit are possible.
4. Total deliverance from demonic powers is possible.
5. Getting closer to the vivid understanding of the voice of God is possible.
6. looking for fresh vision and direction in life, soakat can bring it to you.
7. SOAKAT can refresh your spiritual living.
8. Searching for an answer, soakat can make it possible.
9. Falling in love with the Holy Spirit is possible.
10. If you carry responsibilities, soakat can lift your burden.
11. Trapped by habitual sin, SOAKAT can empower you to break free.
12. Having relationship difficulties, SOAKAT can give you new resources of grace, patience and love.
13. The purpose of SOAKAT Music is "setting aside of oneself to focus and meditate on God for renewal of strength in the HOLY SPIRIT.
14. In times of stress and difficulties, it is absolutely imperative that we wait on the Lord to renew our strength through the Holy Spirit.
Source: GhanaRegions.com