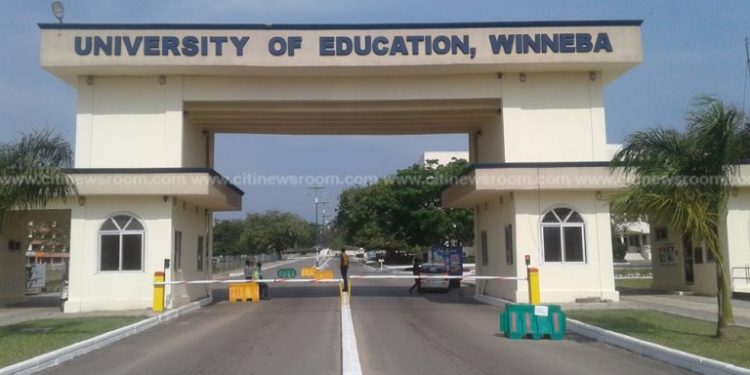 Just a little over 20 years ago, this University was established as the tertiary component of the 1987 educational reform by the PNDC Law 322 by the merger of existing diploma-awarding colleges of education namely:
Advanced Teacher Training College (Winneba), Advanced Technical Teachers' College (Kumasi), College of Special Education (Akwapim-Mampong), National Academy of Music (Winneba), St. Andrew's Agricultural Training College (Mampong Ashanti), School of Ghanaian Languages (Ajumako) and the Specialist Training College (Winneba). Since its establishment, the University has continued to uphold its responsibility of producing professional educators and conducting relevant research that will help inform the direction of development of education and educational policies.
Since its establishment, the University has consciously and systematically expanded academic programmes that are offered depending on national needs. Currently there are nine Faculties, two Schools and one Institute. The academic departments are now 50 in number and together offer 92 undergraduate programmes and 77 postgraduate programmes. All the nine faculties run doctoral programmes in various departments.
Improving on physical infrastructure is of priority to the University for creating a conducive environment for academic and administrative activities. The University made modest strides in this regard. Our ICT infrastructure has recently been improved and is among the best in the public universities in Ghana.
The first batch of 481 students was enrolled in November 1992. Since then, enrolment has increased tremendously. Total student enrolment for the 2011/2012 academic year was 45, 663 comprising 16,804 Fulltime (37%), 23,346 Distance Learners (44%) and 8,595 Sandwich/Part-time students (19%). In view of the increasing number of applicants to our Distance Learning programmmes, five more Study Centres have been established. This brings the total number of study centres to 23. Course books have been printed and supplied to distance learners. Additionally, online coursewares have been developed to accompany the course books. Efforts are being made to network all Study Centres. This is to make Distance Education delivery very easy and responsive to the needs of subscribers. Detailed information on the statistics of the University can be found in the Basic Statistics which has been published as a separate document.
The University continued its collaborations with several national and international institutions in research and development activities aimed at knowledge creation and dissemination. We acknowledge the invaluable contribution and support of our development partners and stakeholders whose contributions have assisted in the development of the University.
Contact:
Winneba Campus
P. O. Box 25,
Winneba Ghana
Tel:
Vice-Chancellor: +233 3323 22361
Registrar:  +233 3323 22269
Reception (South Campus): +233 3323 22139/22140
Reception (North Campus): +233 3323 22036/22042
Reception (Central Campus): +233 3323 22021
Fax:  +233 3323 20954
Website: wwwv.uew.edu.gh
Ajumako Campus
P. O. Box 72
Ajumako Ghana
Tel: +233 3321 93774
Kumasi Campus
College of Technology Education
P. O. Box 1277
Kumasi Ghana
Tel:
Principal: +233 3220 53602
Reception: +233 3220 50331/53616
Fax: +233 3220 50039
Asante-Mampong Campus
College of Agriculture Education
P. O. Box 40
Asante-Mampong, Ghana
Tel:
Principal's Offiice: +233 202041038
Reception: +233 3222 22232
Fax: +233 3222 22251